Faith-Based Entrepreneurs Aim To Transform Fashion And Commerce
Floryn C. Ajuzie works as a pharmacist by day in the Baltimore area and is working on nights and weekends to launch her own faith-inspired fashion brand, PBF: Perfected By Faith.
She's not alone. With the advent of small-batch clothing lines launched easily and cheaply through websites and social media feeds rather than brick-and-mortar retail stores, many fashion entrepreneurs like Ajuzie are creating new clothing brands, products and strategies driven by their personal faith and beliefs. Their success raises questions about branding strategy as well as ethics of retail.   
"Perfected By Faith is a purpose-driven brand," Ajuzie told media. "Our sole mission is to inspire young men and women to reach greater heights by stirring up their faith in Christ through fashion."  
Ajuzie, 31, is a daughter of immigrants from Nigeria who moved to the United States, first to Alabama and then to Maryland. She said she comes from a long line of family members who champion entrepreneurship, hustle and hard work. Now she's CEO of her own company and trying to get her sales off the ground. 
Ajuzie hires designers to create the clothes for PBF, which she sources and produces from abroad. Her products include T-shirts, hooded sweatshirts, pants and shorts. She markets these clothes products almost entirely on social media — mainly Instagram, where she has an initial 692 followers — and she sold about 110 items by May 2022, yielding around $5,000 in revenue. 
Give a gift of $30 or more to The Roys Report this month, and you will receive a copy of "The Lord Is My Courage" by K.J. Ramsey to donate, click here.
She's not alone as a faith-based fashion entrepreneur in the Instagram era. More people are able to create brands and show or sell products entirely via social media, such as TikTok, Facebook and Instagram. This allows the entrepreneurs to completely bypass traditional retail fashion production and distribution channels, such as brick-and-mortar retail stores. The coronavirus pandemic dramatically increased online shopping for Americans, giving a further boost to these entrepreneurs. 
Augustine Daniel owns the brand Kanvves Apparel, which "reminds Christians of the masterpiece God created them and is creating them to be." The Illinois-based company's streetwear T-shirt and hoodie designs feature a lion in one case and a skull with flower designs in another, with the slogans "Grave 2 Garden" and "Life in Death," providing an allusion to the story of Christ's resurrection. "Our vision is to inspire Christians to live their true identity, not one defined by others, life's experiences or culture," Daniel said.
Other entertainment outlets have reported on the explosion of faith-based fashion brands, such as a report in Refinery29 about a brand called Equris Clothing, founded in Kansas City by Deante Howard. Howard aims to make colorful and authentic streetwear cooler than other faith-based brands. The company's name is "pronounced like the boy from Greek myth (Ick-ar-is)" and extrapolates Christian theology in relation to that Greek story. 
"Icarus is a myth about a boy who flew close to the sun. He knew full well the consequences his actions could have, but out of hubris or ambition he did it anyway," Howard told media in an email interview. "Parallel to that, here at Equris we choose to press closer to the Son, knowing full well the consequences of our actions and we do so out of humility, gratitude, love and faith."
Houstonia magazine reported on Tianna Jenkins, who created a label called Cosigned by God, which she characterizes as "simplistic streetwear for the Kingdom of God." Jenkins said she's trying to present a faith-based version of brands like Supreme or Bape. To promote her brand, with its T-shirts and Irish fisherman hats, she obtained a commendation from the mayor of Houston and even took out a billboard on Interstate 10. 
A site called Glossy reported on a Wisconsin-based e-commerce retailer named Josh Gander, who self-financed a brand called Elevated Faith, which has 351,000 Instagram followers. The five-year-old site markets heavily with digital marketing techniques through social media channels. Gander told Glossy that he saw a big sales bump in 2020 for Elevated Faith's graphic T-shirts with messages such as "Woman of God" and "Faith can move mountains." 
A future shift in fashion retail 
The global consulting firm McKinsey & Co. released a report in 2020 warning retailers that trends toward digital retail and personable, authentic fashion brands could upend their businesses. "Some apparel, fashion and luxury companies won't survive the current crisis; others will emerge better positioned for the future," the report said. "Much will depend on their digital and analytics capabilities." Retail consulting company Common Thread Collective predicts the global market for apparel, accessories and footwear could grow more than 7% each year to more than $1 trillion by 2025, up from $759.5 billion in 2021. 
A site called Fibre 2 Fashion reports that, "in America, this Christian clothing industry has total sales of more than $4.5 billion every year. As per a survey conducted by DATOmana, Christian T-shirts are the number one choice of teenagers and youth below 23 years of age — going beyond the popularity of T-shirts from Abercrombie or even the NBA. According to that same survey, 64 percent of youths in America say that they would love to wear a religious T-shirt if the designs are funky and trendy."
Celebrity athletes such as Golden State Warriors basketball superstar Stephen Curry has his own shoe with Under Armour that famously features Philippians 4:13. Meanwhile, some athletes take even more personal ownership over the products. The NFL's most recent Super Bowl most valuable player, L.A. Rams receiver Cooper Kupp, has his own Cooper Kupp fashion brand and logo. He sells hats and shirts on his website featuring a crown and slogans such as a quote from 1 Corinthians 9:24-27: "They do it to get a crown that will not last. We do it to get a crown that will last forever." Kupp and his wife, Anna, donate proceeds from the sales to charity. 
Branding strategy questions 
Many of these faith-based fashion entrepreneurs wrestle with the question of how much or how little to evangelize and proselytize with their clothing products. Should the message be subdued like a snare drum? Or bombastic like a bass drum?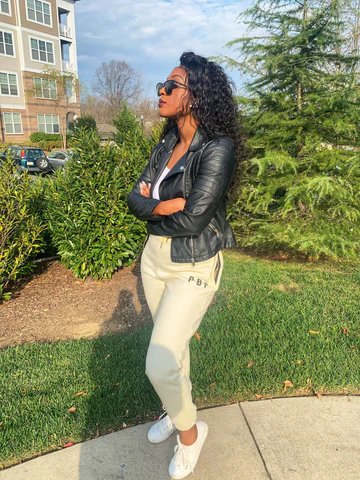 Ajuzie said she aims for more subtlety. She said she wants to stir up young adults' faith by sharing her faith. Most of her clothing does not specifically say anything about faith but instead sparks conversation by inviting others to wonder what PBF means. "Perfected by faith will transcend across cultures and generations in order to break down barriers in the beauty and fashion industry," she wrote in her vision statement. Several other clothing entrepreneurs like her choose to speak authentically about their own personal faith but not to wear the faith on their sleeves too explicitly. 
Perfected by Faith, Doulos Collective and ALLTHINGS are three faith-based fashion brands that have ignited some curiosity. Unlike most faith fashion brands, they use their websites to share what their clothing means instead of using their clothes as billboards. 
Doulos Collective included the word "Doulos" on its clothing and only explains what it means on its website. Doulos means "servant" or "slave" in Greek. "Friends, we are SET FREE TO SERVE our God with a joyful heart, free from the chains that hold us captive," the site says. The Doulos site is led by Starkville, Mississippi-based Lana Khults, or @lanakhults on Instagram. 
ALLTHINGS has an athletic wear line with its "ALLTHINGS" label on each item of clothing. What does ALLTHINGS mean? The company's website says it is a "daily reminder based off our favorite scripture: Philippians 4:13, 'I can do all things through Christ who gives me strength.'" ReligionUnplugged.com reached out to contacts at Doulos and ALLTHINGS via direct messages and social media but didn't receive responses to questions. 
Augustine Daniel at Kanvves said he also prefers the subtle approach and wants his fashion designs to be "not overly churchy." That approach fits his own personal faith, which does not aim to be "loud or in your face." 
"We want you to know that you are first loved, then you can show that love to others," he said in an email interview with media. "This is why Kanvves focuses on identity — to show you who you truly are in Christ and inspire you to radiate that identity. We believe you worship God by being who you have been created to be and not discounting the work of the cross. This is why we call out the gold in you and remind you of how God sees and calls you. Also reminding you that you are who God says you are, not what others, life's experiences or culture defines."
He noted that some Christians might prefer to have more explicit statements about their faith. He realizes he may be missing out on selling to that market. But he said he wants to create a more inclusive product that suggests Jesus came for everyone. "Given our approach of focusing on identity (in Christ), being subtle seems to be the better approach," he said. "For example, if we're saying You are Enough or Loved or Worthy, we believe not only Christians need that message. Everyone needs to know that they are enough, worthy, priceless, loved."
Daniel said he realizes the Christian clothing space is "supersaturated" with more competitors seemingly every day. Yet, he thinks his brand also has crossover appeal to non-Christians. "It may take a longer time to hit the goals the business has set because of this approach but I believe down the line, it would pay off being a Christian brand that decided to be less Churchy and more inclusive and welcoming to non-Christians," he said. 
Deante Howard with Equris Clothing said he sees the faith-based fashion community growing fast and intersecting with discussions of race and identity in America. As a Black man from an urban environment, he grew up going to church with slacks, ties and dress shoes.
"Personally I didn't like it," Howard said. "Especially in the summer, a suit and tie was HOTTTT. The shoes, no matter the time of year were uncomfortable to me — maybe it's the grade of shoe. We had to get ours from Payless; they were hard and tight around the toes. … Just overall the whole thing was uncomfortable; I could not wait until church was over to change out of those clothes." Howard sees the modern church as more welcoming, following the words of Jesus that told people to come as they are and was not concerned if someone's attire was "too street, too shabby, too high class or too anything." 
He said his generation and peers want to go to church comfortable and ready to listen. And he believes they want to wear "their faith on their sleeves, literally." That kind of fashion "inspires conversation that otherwise may not happen. It allows you to be unconsciously intentional with sharing your faith." Howard said he wants to be loud and intentional with his designs. He believes his clothes can and should be witnessing tools.
 "My brand from the name to the brand colors is about being unashamed and unafraid to walk in the light of Christ," he said. "All I want is to plant a seed for one to want to develop a relationship with God and understand love through Christ. It is not my job to make that seed grow. … Just like in nature, only God can make a seed to grow; there is nothing we can do to force it to happen."
Ethical dilemmas of retail 
Though it may change in time, Augustine Daniel currently sources his items from within the United States, designing the products himself and manufacturing them in Los Angeles, California. Working with U.S. companies means that production costs are much higher, but the quality is higher as well. 
Daniel said he also wants to make sure he does not source products from places that may endanger people or children by using child labor. "Because we're still a small company it'll be difficult to do due diligence on factories and manufacturers," he said. "I think it is important to visit factories to get a good understanding of their operations. But at the stage we are, we can't do that yet. So working with U.S. companies is our best bet even if it means higher production costs."
Another ethical issue Daniel's concerned about is the fast-fashion trend, driven by retailers such as H&M and Zara, which leads to a large amount of clothes "that end up in landfills." Daniel said his brand doesn't "want to be part of the madness." So he aims to create higher quality products that don't end up in landfills after only a few washes. 
Part of his strategy to avoid fast-fashion pitfalls is to use a made-to-order approach that limits massive inventories. He said massive inventories lead to companies discounting or tossing clothes, which end up in landfills. "This is why we try to keep our designs timeless," he said. "Fast fashion has so many ripple effects. Trendy clothes mean people move away from them quickly, which in turn means they end up in landfills quicker. Cheaper clothes typically means cheaper labor, which in turn means people are not paid fair wages or child labor is being used. Cheaper clothes also mean that clothes get worn out quickly, and they end up in landfills quickly too."
Deante Howard with Equris Clothing quoted one of his favorite rappers, K.B. "I only got one Lord and it ain't yo' name." Howard said he doesn't apologize for running a for-profit business: "I get to do something I love to do and be paid for it. To me, that's a huge opportunity." He pointed to Colossians, which tells him to work as he's working for the Lord. "This is an opportunity for me to use my skills and talents to lead people to God, to share his love, grace and mercy, to express my joy and peace, to stand on my faith, to be a beacon of hope … even with the madness going on in the world right now."
Howard sources his products from out of country, sending designs along and then having the manufacturer ship the product directly to his customers. "I don't have any ethical concerns," he said. "I did a lot of research before I got started. I had places send me videos of their factories and how things are made."
Howard also indicated that he has a different view of child labor than some other clothing entrepreneurs may have: "I believe that children should be able to work; they shouldn't be forced to, but if my 9-year-old son wants to go out and do a job, for a company or an entrepreneur, I will let him. I think the idea of stopping children from working is that of a highly privileged society and the forcing of children to work is the act of a really desperate society, and I think that instead of laws or sanctions being placed against those places, causing further hardships, they should be assisted and (shown) grace."
He said he believes the factories he uses are safe from what he saw and read. They shut down for two weeks during the COVID-19 outbreak to keep people safe, and they shut down during holidays as well. "This is a company that ships all over the world, so during those times, if they were greedy and unethical, they would still run and force people to work, as opposed to stopping," Howard said. "They are audited at least once a year to remain Sedex SMETA compliant for labor, health, safety and business ethics. Also ecologically, this manufacturer is pretty bomb. They operate from a zero-inventory stance using ethically sourced material; this helps reduce environmental risk and waste that you could get from mass production and having excess stock. The packaging is made from 100% recycled material, and as far as quality, each piece is printed, cut and handmade."
Vanity, greed and lust 
Other ethical issues Daniel and others wrestle with are the temptations of vanity, greed, lust and materialism than sometimes accompany the fashion and retail industry. One Instagram channel called PreachersNSneakers has more than 300,000 followers who dote on photos of megachurch pastors who buy and wear expensive and limited-edition sneakers. Several major news outlets including, The New York Times, The Guardian and The Washington Post, have reported on this channel. 
When does someone have too many clothes or conclude they are spending too much money on clothes or valuing clothes too highly? What role do historic Christian values such as modesty and humility play in a modern fashion world where bombastic and colorful designs often stand out? "I believe fashion is a medium of self-expression and this self-expression is connected to our personality," Daniel said. "As a Christian who believes all we have was given to us by God and we should be good stewards of our possessions, I believe moderation is essential."
He agrees that Christian consumers should aim to live within their means and not overspend on trendy fashion pieces. But he noted that some people are tempted to spend more on clothes while others are tempted to spend more on fine dining or travel. "As long as you steward your finances well and (do) not place your identity in the latest fashion (or anything else really), that is a good place to start," he said. "If you place your worth in material things, you feel more valued when they increase, but it also means you will feel your value diminish if they go away, which should not be the case."
Daniel said he's pondered the retail models of companies, such as Tom's Shoes, that donate some proceeds to charity or to social good. At one point, his company partnered with a charity donation app, installing its plug-in on his website to allow customers to donate a portion of their purchase to charity. But he found customers were not using the tool. He found few customers were using the app. So he removed that and is considering finding one charity he can partner with directly, giving a percentage of sales directly to the charity and sharing updates with customers on social media and email. He's pondering local charities that connect to either faith-based mental health or homelessness. 
Howard at Equris Clothing said he sponsors a couple of kids through Compassion International personally, as well as other charities, organizations and churches. "Unfortunately I don't make enough to report those things as a tax write-off, so while I keep some track of it, it is not presently the most organized," he said. "Sometimes on social media, when I partner with an organization (such as a youth ministry in Arizona called Sozo or an organization called Really Reps 4 Lyfe), we share it, so I can highlight the organization and maybe draw in donations outside of purchase through me and so they can highlight my brand and help drive awareness of what we are doing." 
Entrepreneurs such as Howard, Daniel and Ajuzie say they feel empowered and motivated to be able to launch brands at minimal cost and to pursue their ardor for fashion and faith at the same time. They say they plan to keep navigating market dynamics, ethical issues and supply chain dilemmas in their quest to succeed. 
"If I'm going to call myself an entrepreneur, it has to be something that I'm truly passionate about," Ajuzie said. "I'm truly passionate about fashion." 
This story was originally published by Religion Unplugged.
Alicia Lenea is a major in journalism, culture and society at The King's College in NYC and served as a spring 2022 editorial intern at ReligionUnplugged.com.