Spacewalk, Dragon Ops, Health Research Coming Soon – Space Station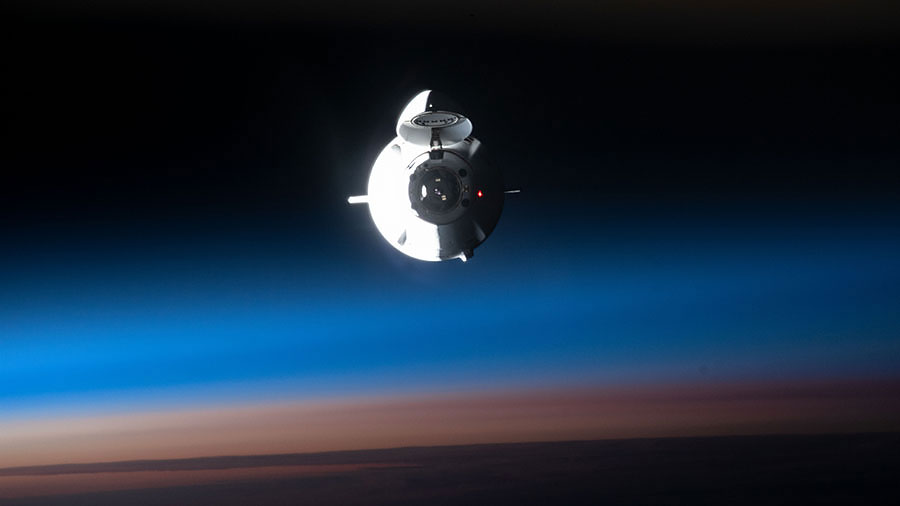 Mission managers have given a "go" to the seventh spacewalk of the year, scheduled for mid-week. A US cargo ship is also nearing the end of its mission, with its undocking and return to Earth planned for the weekend.
Two astronauts are preparing for a six-and-a-half-hour spacewalk, continuing to set up the European Robotic Arm (ERA) for operations outside the Russian segment of the International Space Station. Commander Oleg Artemyev and Flight Engineer Denis Matveev, wearing Russian Orlan spacesuits, will exit the airlock of his module at Poisk on Wednesday at 9:20 a.m. EDT. The two attach the camera to the ERA, move the external control panel, remove the launch restraint on the robotic arm, and test the arm's gripping mechanism. NASA TV will begin live coverage of the spacewalk at 9:00 a.m. on the NASA app and website.
Roscosmos flight engineer Sergey Korsakov helps fellow astronauts prepare for spacewalks, while maintaining orbital testing systems and conducting space research. Today, he worked on the ventilation system in his Nauka module, then explored his techniques for effective exercise to maintain strength in a microgravity environment.
Meanwhile, SpaceX's Dragon supply ship is nearing the end of its month-long sojourn in the forward port of the Harmony Module. On Monday afternoon, we packed the Dragon with over 4,000 pounds of station gear and completed a science experiment to return to Earth. The Dragon will undock at 11:05 am on Thursday and parachute to a landing point off the coast of Florida the next day for recovery. The undocking will begin live on NASA TV at 10:45 am on Thursday.
NASA flight engineers Kjell Lindgren and Bob Hines on Monday focused on life sciences to improve human health on and off Earth. Lindgren set up tissue stem cell samples inside his Life Science Glovebox (LSG) to study how weightlessness affects immunological aging and to protect astronauts and Earthlings. investigated that it may enhance the treatment of Hines then cleaned up his LSG in the Kibo Experimental Module to prepare it for experimental operations to develop new wound treatment techniques using the microgravity environment.
---
Follow the Space Station Blog for more information on station activities. @space station When @ISS_Research On Twitter, ISS Facebook and ISS Instagram accounts.
Get weekly video highlights: http://jscfeatures.jsc.nasa.gov/videoupdate/
Get weekly updates from NASA. Subscribe here: www.nasa.gov/subscribe