WatchSpotter's citizen science platform was created with every scientist in mind.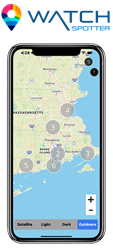 WatchSpotter changes the game for citizen science projects and scientists worldwide

Vero Beach, Florida (PRWEB)
August 23, 2022
WatchSpotter is a female-owned software company headquartered in Florida. Their innovative citizen science software platform was created and developed based on years of research and experience in scientific research and database software development. The Primer product suite provides feature-rich applications with everything you need for a successful citizen science project.
Anne Sleeman, Founder and CEO of WatchSpotter LLC, said: Primarily, the project relied on paper or web-based forms for citizen scientists to enter data into the form. These methods are unreliable, time consuming, and often unwieldy from the perspective of the project leader. Her QA/QC of data is nearly impossible, with human error and loss of data points playing a key role. The second option was to invest in expensive custom software that often took months or years to develop. WatchSpotter took a different approach and developed the first application of its kind. Our apps are customizable and can be deployed in minutes. Scientists can therefore get all the benefits of a custom solution without the cost and time constraints of previous solutions. "
The WatchSpotter Admin Console is the hub for researchers to manage all aspects of their project: volunteers, citizen scientists, training, field guides, approved spotters, spots, and near real-time data analysis and messaging. Create project-specific questions and answers. A citizen scientist (spotter) answers these questions and uploads photos, audio files and GPS coordinates via his free mobile app or online spotter portal. The data is viewable and can be approved/rejected in real-time by project leaders, analyzed via analytics dashboards, and exported.
One of the serious limitations of citizen science programs has always been participant participation. People/Citizen Scientists want to feel an integral part of the project. Science Leads should provide feedback so that citizen scientists understand that their participation is important and meaningful.
With successful citizen engagement, projects can easily scale exponentially. An integrated communication component, SpotterChat, allows citizens to stay engaged with projects, scientists, and other like-minded people. With the ability to send real-time alerts and send "watch (BOLO)" notifications, Spotter takes an active role in the science of the project and encourages enthusiasm, community management, and science leaders for seamless collaboration with
WatchSpotter takes a mobile-first approach to software development. Joe Sleeman, Chief Technology Officer at WatchSpotter said: Mapping that provides an incredible level of map detail not found in most other map providers. The result of his implementation of the solution is an easy-to-use, reliable map that scientists can manage anywhere, globally, on any project. A high application has been realized. "
WatchSpotter is available as a software subscription, and the company offers to migrate existing project data to WatchSpotter at no additional charge.
About WatchSpotter LLC

WatchSpotter is a women-owned software pioneer in the field of citizen science. They developed her multidisciplinary, customizable, cloud-based SaaS solution that scientists and project leaders can easily deploy in citizen science and volunteer projects. Headquartered in Vero Beach, Florida, USA. For more information, please email [email protected] or visit http://www.watchspotter.net.
Share articles on social media or email: