Fürst Dream, Valor, Møllegårdens Fashion, King's Pleasure Win 2022 U.S. Young Horse Championships
2022 U.S. Dressage Championships
The 4-year old Fürst Dream, the 5-year old Valor, the 6-year old Mollegardens Fashion, and the 7-year old King's Pleasure became the winners of the national young horse championships which was held at the 2022 U.S. Dressage Championships on 22 – 28 August 2022. 
The U.S. Dressage Championships is also known as the Festival of Champions and is held at Lamplight Equestrian Center in Wayne, ILL. The event has grown into a massive dressage festival with all national championships under one roof: from young horse level to Grand Prix. 
The U.S. Young Horse Championship consists of two rounds, the preliminary and finals test. The first round counts for 40% and the second round for 60%, a unique way of tabulating an overall ranking. In other countries, only the finals tests counts for the ranking/medals/title, while the preliminary test simply serves as a warm-up round. 
4-year olds: Fürst Dream
Twelve combinations competed in the 4-year old division.
Adrienne Lyle and Fürst Dream continued their winning ways by topping the finals test with a score of 9.14. Lyle (Wellington, Fla.) and Betsy Juliano, LLC's 2018 Hanoverian stallion (by Furstenball x Benetton Dream) put in a strong performance to earn scores of 9.5 for the trot, 8.6 for the walk, 9.2 for the canter, 9 for submission, and 9.4 for general impression. Their impressive scores throughout the competition, with a whopping 95.20 points in the preliminary round, clinched the National Champion title with an overall score of 9.292.
"I was really thrilled with him today. He was still full of energy today, which I was happy to see," said Lyle. "He was quite frisky today in the warmup and a little bit going around outside. But then he really focused when we went down centerline. I thought I had him even a bit better balanced and more packaged than the first day and he's just really rideable. He has such incredible suppleness, especially for a four-year-old. He just feels like every part of him moves, and I love that feeling. For me, suppleness is kind of my most important thing that I look for in a young horse. And he's got an amazing brain."
Juliano bought Fürst Dream as a 2.5-year old at the 2021 DSP Stallion Licensing auction for 70,000 euro. Adrienne has been developing him from the start, but for the summer had to pass on the ride to her assistants as she prepared for the 2022 World Championships in Herning in Europe this summer. 
"I definitely could not have done it without my amazing assistant, Quinn Iverson, who had, between my horses and Katie [Duerrhammer]'s horses, 25 horses under her care this summer. And my amazing team of grooms who also help ride a little bit at home, so I can be focused on something like the World Championships knowing that 100% the horses were in good hands," said Adrienne. "They were kept in light work, kept a little fitness, but really they had a little bit easier time when I'm gone in Europe. But the fact that I was able to come home, I was home for four days and get on them and get them ready for this is just a testament to what an amazing job Quinn does with them."
Alice Tarjan (Oldwick, N.J.) and Ice Princess, her 2018 Oldenburg mare (by Ibiza x Don Schufro), earned a score of 9.00 and finished with Reserve Champion honuors on an overall score of 8.976 after already posting 89.40 in the first round. 
"I'm super excited about that horse. I think it's going to be a fantastic grand prix horse," she said. "I bought it as a yearling from my friend over in Denmark (Vicki Nedergaard). She's not an amateur horse, I would say. She's super honest, but she's hot and so she can overboil really easily, so it's taken her a little while to gain confidence and just the basic contact and that type of thing in the movement, but I think for the future that's going to be a fantastic horse."
 Alyssa Doverspike Burkett (Murrieta, Calif.) and For Edition, 2018 Westphalian gelding (by For Gold out of Frenzi) owned by Doverspike Burkett, Kimberly Pribble, and David Wightman, scored 8.90 in second round  and were third overall with a score of 8.604, after posting 81.60% in round one. 
"Today, it was really just important that we came in and he was relaxed," she said. "He was a little bit spooky the first day, some sound spookiness, so we took him in there this morning and just walked him and just wanted to show off his gaits and his—a really big quality about him is he can be so steady, so that was something we really wanted to showcase today."
5-year old: Valor
Fourteen combinations returned to the ring to ride the 5-year old Final Test.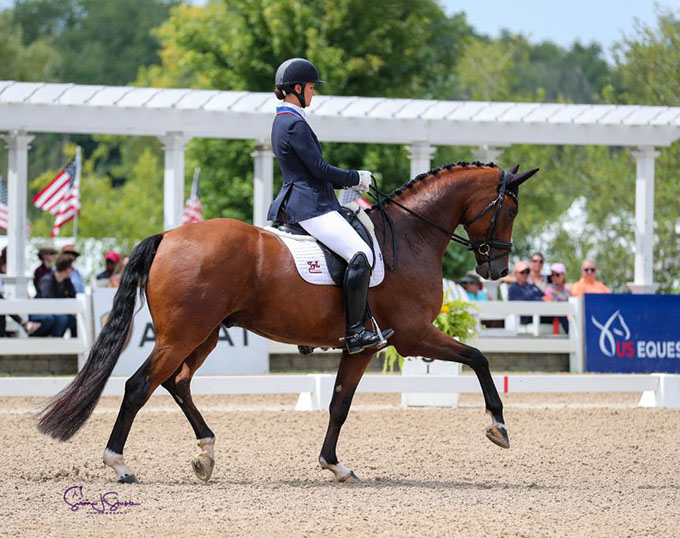 Adrienne Lyle put in another top scoring ride on Valor to earn a total of 9.24 points in the class. After a first place in the preliminary test with 9.26, they now ranked second in the finals test with an equal score to the winner. The judges rewarded Valor with 8.4 for the trot, 8.5 for the walk, 10 for the canter, 9.5 for submission, and 9.8 for general impression. Lyle (Wellington, Fla.) and Kylee Lourie's 2017 Westphalian (by Vitalis x Furstenball) gelding secured the National Champion title with an overall score of 9.248.
"He was super again in the ring today," said Lyle. "There was a little bit more atmosphere, even more people, and more electricity. But he put his head down and went right to work. He's so rideable and such a kind, giving horse. And I think that's what I enjoy the most about him."
Valor was purchased in Germany off a video. 
"He's owned by Kylee Lourie, who supports Katie Duerrhammer and owns the horse that she just was at the World Championships on, so we all just kind of hustled back here for this [event]," Lyle explained. "We bought him off a video. He had just turned three and had just been started under saddle off a video from Germany. He has been with us since then, and he's just been really fun to develop. This is my first year ever doing the young horse classes or the championships, so I'm learning a lot as I go as well and I'm very happy to be here."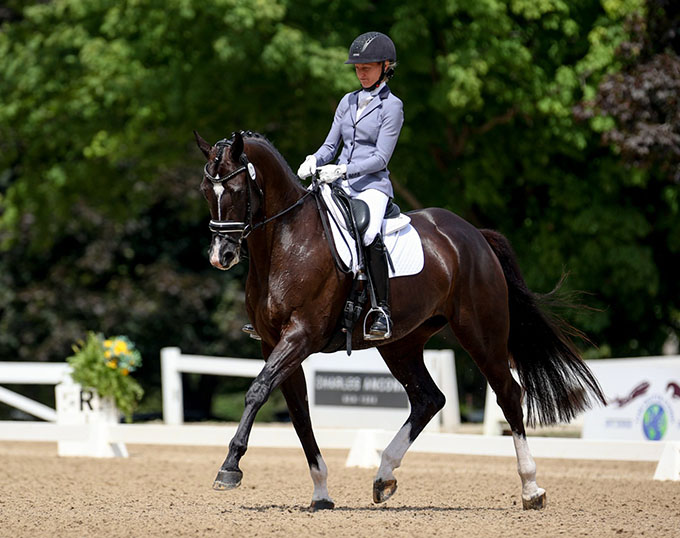 Alice Tarjan (Oldwick, N.J.) and Ierland's Eden, her 2017 Oldenburg mare (by Ierland x Krack C), were fourth in the preliminary test with  8.26 points, but won the Finals Test with a score of 9.24 to collect the Reserve Champion title with an overall score of 8.848 points. 
Tarjan said her horse improved much compared to last year. "I think the balances start to shift from the Four-Year-Old Test to the FEI Five-Year-Old Tests, so it is coming along," she said. 
Lindsey Holleger (Middletown, N.Y.) and MW Fürstencharmant, Jennifer Vanover's 2017 Oldenburg stallion by Furstenball x Sir Donnerhall, were second in the preliminary test ( 8.96 points) and third in the Finals Test with a score of 8.68 and third overall with a score of 8.792.
"I think my horse's canter has changed a lot," Holleger explained about the progress her horse made this year. "And really the trot, too. But he's just gotten more engagement and just matured a lot in the last six months. They change so much when they are young, and it's cool to see them progress."
6-year old: Møllegårdens Fashion
Fourteen combinations contested the 6-year old finals test.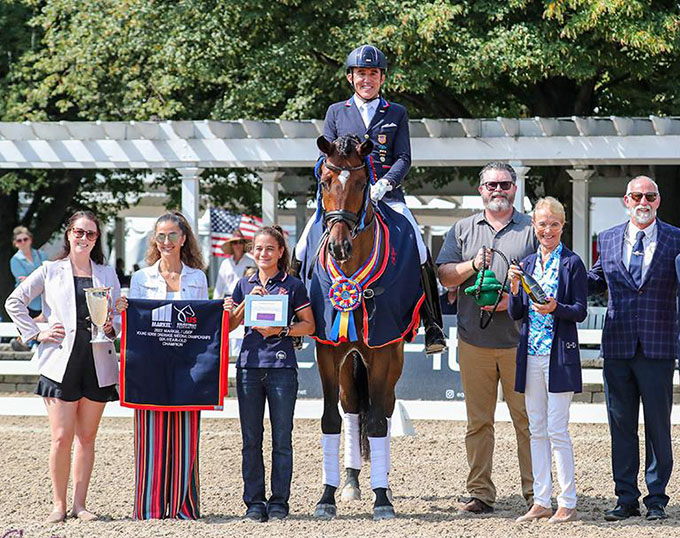 Cesar Parra and Møllegårdens Fashion led from start to finish in the division to win the title on an overall of 8.348. Parra (Whitehouse Station, N.J.) and his and Marcella Parra's 2016 Danish Warmblood gelding (by Florenz x L'Espoir,) secured the win by taking first place in the Final Test with a score of 8.30, collecting scores of 8.5 for the trot and general impression, 8.2 for the walk, 8.3 for the canter, and 8.0 for submission. The pair had also won the preliminary test with  8.42 points.  
"It was great. Very relaxed. I didn't want to push for much more. He's a very powerful horse," said Parra of his test. "We are a little bit new to each other. I've been riding him a few months, and I know how he can get really, really strong. So, I just wanted a loose and pleasant test. I'm very, very happy that he's getting so supple. He's learning every day, he's almost doing now the Grand Prix movements, so I'm very, very happy with that."
Møllegårdens Fashion was previously shown by Parra's assistant rider Katryna Evans, who won bronze with him in the 5-year division at the 2021 Championships. Parra commented, "obviously this is important to come here and win if you can, but is more important to follow the parameters that we need to bring [a horse] to Grand Prix. And I think that's why we keep coming with them here. We keep coming with the same horses doing the same thing. And I think 'Fashion' is a statement to that, that he's doing it. He's a very, very good. I mean, I love that guy since I started showing him."
Rebecca Rigdon (Cardiff by the Sea, Calif.) and Lionell VE, Lauren Fisher's 2016 KWPN gelding (by Negro x Tenerife), scored 8.14 in the Final Test and claimed Reserve Champion honors with an overall score of 8.18. They had also been second in the preliminary test with  8.24 points.
"I'm very happy with my guy today," said Rigdon. "He was gelded last fall and needed some time to get strength and he's new to me as well since December. And I'm really, really happy with him. The one mistake he made was totally my fault, which I'm thrilled with. That I can fix easily! I'm super happy with that."
Alice Tarjan (Oldwick, N.J.) and Gjenganger, her 2016 Danish Warmblood mare (by Grand Galaxy Win x Don Schufro), were third in the preliminary test with 79.400% and third in the finals test with a score of 8.18. This made them third overall with a score of 8.084. 
 "I'm really pleased with my horse. She was a good girl. We got through the test and she did her job," said Alice.
7-year old: King's Pleasure
Fifteen combinations closed out Festival of Champions riding the 7-Year-Old Final Test on Sunday late afternoon.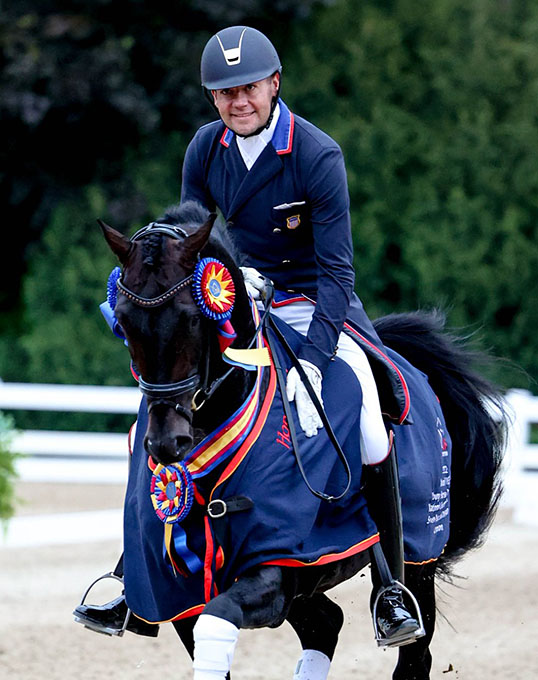 Endel Ots and King's Pleasure won the preliminary test with  78.543%%, as well as the finals test on Sunday with a score of 78.129%. Ots (Wellington, Fla.) and Heidi Humphries's 2015 KWPN stallion (by Dark Pleasure x Johnson) clinched the inaugural championship with a score of 78.295%.
"I loved it," Ots said of his test. "Couldn't be better. I didn't ride him yesterday. We just took him on a hand walk and just itched him, let him roll, turn him out a little bit. So, we had a lot of power and energy. He really stayed with me, so I couldn't be happier."
When asked what the background of his horse is, Ots explained that, "I had actually sold my friend's horses to the owner of King's Pleasure, Heidi Humphries. And when I met her, I had a feeling when I met her, really great vibe and energy, so throughout the years when I've won with Lucky [Strike] and then teamed [for the 2019 Pan American Games] with Lucky and won with Everdance, I would just send her articles through Facebook and then all of a sudden one day she said, 'I want to buy a horse.' And then I sent her a couple of options and I didn't hear anything. And then I just messaged her back and I said, 'Hey, no pressure if you want to. If you don't…' And she said, 'Oh no, he's coming tomorrow.' And I was like, 'Who, which one?' And so then King's Pleasure came in. I really wanted to do six-year-olds last year with him, but he was so green. I mean, he didn't know changes, no shoulder-in, no half-pass or anything. Heidi is relatively new in dressage, so I just told her, 'Listen, if you trust me.' I actually for her birthday about 10 months ago, I gave her a silver frame and it said 'Seven-Year-Old 2022 National Champion King's Pleasure.' And I said, there'll be a photo in that frame with your horse with the championship ribbon on there. I gave that to her and she was like, 'Well, it's no pressure. I don't want it.' And I said, 'No, no, no. I see it, I feel it, I know it is there.' And she is just a fabulous, wonderful owner who does everything for her horse."
Cesar Parra (Whitehouse Station, N.J.) and Fanta, Parra and Gina Raful's 2015 Hanoverian gelding (by Finest x Florencio), moved from fourth place in the preliminary test (75.082%) to second in the Final Test with a score of 76.914% and with Reserve Champion hounors on an overall score of 76.181%.
"I enjoyed it. I enjoyed it because he is a totally different horse," Cesar commented. "'Fanta' until now, to me, has been a bit too quiet. And it's getting harder trying to keep him on my aids, so I rode him until the last minute I was allowed to ride to get in the ring, but I was happy he came out good and the judges liked it. He is an amazing horse. I really love him. I mean, I've been riding him now for like two years and really in love with him."
Amanda Perkowski (Wellington, Fla.) and Sonata MF, Next Level Performance Center Inc.'s 2015 Hanoverian mare (by Sir Donnerhall x Don Principe), were second in the preliminary test (75.829%) and third in the Final Test with a score of 76.100%. They landed third place overall with a score of 75.992%.
Text USEF Press Release, edited by Eurodressage – Photos © Sue Stickle and US Equestrian
Related Links
Scores: 2022 U.S Dressage Championships
Furst Dream, Valor, Møllegårdens Fashion, King's Pleasure, Jane Make Winning Start at 2022 U.S. Young and Developing Horse Championship
Previous Winners
Fontenay, Glory Day, Sonata MF Win 2021 U.S. Young Horse Championships
Gjenganger, Easy di Fonte Abeti, Spirit of Joy, Stenagers Wyatt Earp, Donatella M Win 2020 U.S. Young and Developing Horse Titles
Sonnenberg's Kain, Sole Mio, SenSation HW Win Young Horse Titles at 2019 U.S. Dressage Championships
Sole Mio, SenSation HW, Lucky Strike Take First Titles at 2018 U.S. Young Horse Championships
Ravenna and Fashion Designer OLD Win Titles at 2017 U.S. Young & Developing Horse Championships
Serenade MF, Darius, Frankie Win 2017 U.S. Young & Developing Horse Championship
Habanero CWS, Desario, Horizon Win Title at 2016 U.S. Young & Developing Horse Championships
Tiko, Rosalut NHF, Folkestone Take First National Titles at 2015 U.S. Young Horse Championships
Rosalut NHF, Emilion SA, Donatus Win 2014 U.S. Young and Developing Horse Championships
Rebellienne, Fashion Designer, Vitalis Win 2013 U.S. Young Dressage Horse Championships
Bragdell and Hemmingway Win 4-Year Old Division at 2012 U.S. Young Horse Championships
Tarjan and Somer Hit Win 6-year old Division at 2012 U.S. Young Horse Championships
Schueler and Regalo Win 5-year old Division at 2012 U.S. Young Horse Championship
Tarjan and Somer Hit Win 6-year old Division at 2012 U.S. Young Horse Championships
Schueler and Regalo Win 5-year old Division at 2012 U.S. Young Horse Championship
Furst Fiorano and Donna Tella Win Big at 2011 U.S. Young Dressage Horse Championship
Bragdell and Hemmingway Win 4-Year Old Division at 2012 U.S. Young Horse Championships
Aesthete, Selten HW, Pikko del Cerro Win 2009 U.S. Young Horse Championships
Selten HW, Winsor and Cabana Boy Win 2008 U.S. Young Horse Championships
Cabana Boy and Grandioso are 2007 Markel U.S Young Horse Dressage Champions
Currency DC and Sir Sinclair Win at 2005 USEF/Markel Young Horse Dressage National Championships
Royal Prince and Revolution win 2004 American Young Horse Championships